Capital city dwelling values up, with pace of growth slowing.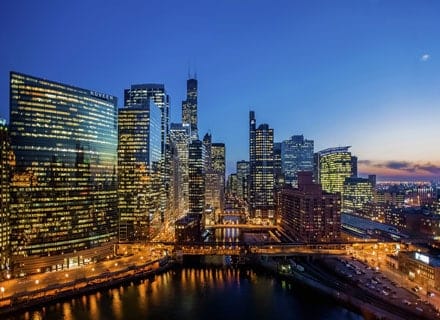 Across the combined capital cities, dwelling values have increased by 7.1% over the 12 months to September 2016, a figure much lower than the 11.0% increase in values over the previous 12 months. So, whilst dwelling values certainly aren't tracking sideways, the pace of growth has slowed markedly, yet is still relatively strong. Rental rates on the other hand, are falling and showing their largest declines in more than 20 years.
October dwelling values speak to this slowing pace, rising by 0.5%, compared with a 1.0% lift in September and 1.1% rise in August. The latest monthly housing market data takes the quarterly change in capital city dwelling values to 2.7% and 7.5% higher over the past twelve months.
Apart from Adelaide, Hobart and Perth, every capital city recorded a rise in dwelling values over the past three months, with the Canberra housing market recording the largest increase in values after a 5.6% quarterly rise. Growth in the Canberra property market largely relates to rising house values, with unit values increasing at less than half the pace of detached housing.
Index results as at October 31, 2016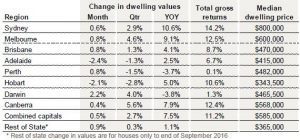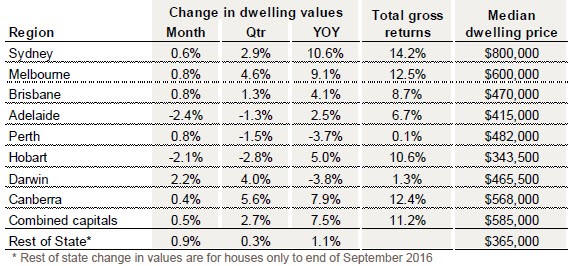 Sydney continued as the stand out capital based on annual capital gains, recording the largest year-on-year increase; dwelling values are now 10.6% higher over the past 12 months. Houses lead the charge, with the supply side for high density housing taking up a lot of the demand. Units are in demand in so far as they are at a lower price point, but there are concerns around the number of dwellings coming onto the market.
According to CoreLogic economist Tim Lawless, the divergence in performance between houses and units is most clearly evident in Melbourne and Brisbane. The annual rate of capital gains in Melbourne remains strong at 9.1%, however there is a substantial difference in growth rates between houses and units, with house values up 9.6% compared with a 5.2% increase in unit values over the past year. Brisbane's housing market has shown a larger capital gain spread, with house values up 4.7% compared with a 1.4% fall in unit values over the year.
He said, "The weaker performance of unit values across the Brisbane market may be partially attributed to supply concerns, as unit supply levels across key regions of Brisbane's inner city show the potential for a significantly larger relative increase in existing stock levels when compared with Melbourne and Sydney."