Free Estimate of Potential Deductions
Find out what sort of tax depreciation deductions might be available
Free Depreciation Assessment
Our aim is to empower our property investor clients with the knowledge to make informed decisions as they pave their way towards financial freedom. Part of our commitment to property investors is to provide free advice on potential depreciation deductions. Whether you're an existing MCG client or not, we invite you to contact us if you're looking for an idea of your potential depreciation deductions. This could be for a property you already own, or a property you're looking to purchase. Whilst depreciation is just one small part of the overall decision, we might be able to help you decide between two properties by letting you know the potential depreciation deductions for each property.
Estimates for Developers and Real Estate Agents
We provide developers and real estates agents with depreciation estimates such as the example below, and we're happy to provide you with an estimate of the depreciation claims within the first full year of claim. All we need from you is the property address, the real estate listing (if available) so we can take a look at the property online, and any further information you might have to hand. The age of the property and information about any renovations or improvements is certainly helpful.
There's no obligation to have a report completed and we're happy to discuss the property with you over the phone or via email. It's our commitment to property investors across Australia. Free advice for all!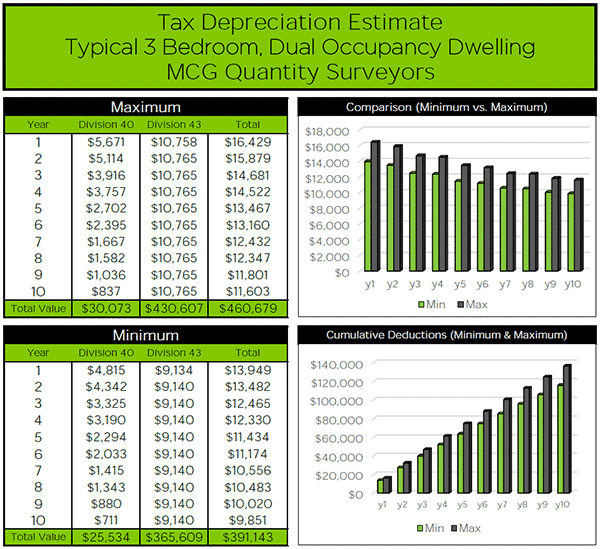 Talk to one of our tax depreciation experts today
on 1300 795 170 to ensure you have a professional
maximising your tax depreciation deductions.