Timely reminder to home owners – Watersun Homes Collapses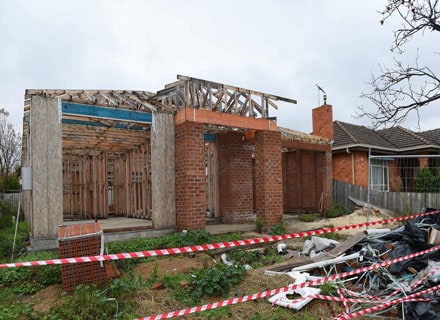 The headlines are reading, 'Home builder goes under, Thousands lost, Hundreds of home owners left out of pocket'.
The reality is that we have all read these headlines before and unfortunately, these brutal words will continue to feature from time to time within the construction landscape.
Building your home is a personal thing, whether it be the family home or an investment. Like our health, we live by the adage that 'it will never happen to me'.
Wrong. As recent as this week, some 300 home owners are expected to be left out of pocket with the collapse of Watersun Homes.
As the Geelong Advertiser reported on the 1st March, the directors of Watersun have gone into hiding, whilst the home buyers have been left in shock.
I expect the question on the minds and lips of many of the 300 home buyers after Watersun's collapse will be, What to do next?
Know your numbers. What have you paid in construction cost progress payments to the builder? What is your cost to complete the construction works?. Then, are these numbers correct?
You may well have been paying the builder under a milestone method or staged method, similar to the below. However, that may well be very different to the 'actual' cost of the works completed to site.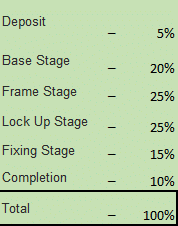 For example on your $400,000 construction cost, you have paid the builder up to and including the frame stage. That is some 50% of the contract sum, $200,000.
However, what has actually been completed to site would be more in the order of 25% or $100,000.
Why? The above milestone method is front loaded to allow the builder to pay deposits for building materials, suppliers and subcontractors. In many cases, these deposits and building materials have not even been provided yet, or have reached site.
In a nut shell, you have $200,000 left as your cost to complete, but that will not be enough to complete the project, you actually would need closer to $300,000, plus the cost of a new builder establishing to site, engineer's inspections, etc.
My advice? Contact a Quantity Surveyor to estimate the actual construction cost, then conduct a site inspection to determine the actual cost of the works completed and fixed to site. This will give you an accurate 'actual' cost to complete the development.
Secondly, you have the option of insurance. This is why it is vital that your home builder provides copies of these to you. I'm referring to Home Owners Warranty Insurance.
A word or warning though, going down the rabbit hole of insurance, will be a slow and at times, tedious process.
Choice, Australia's leading consumer advocacy group, noted that:
"If your builder does go broke, die or disappear before the complaint is resolved and you have to resort to your home warranty insurance, it won't cover legal costs against the builder. These costs can easily exceed the amount you're attempting to recover – in one case cited by the Consumer Action Law Centre, a claim for $63,000 incurred about $90,000 in legal fees.
In addition, Choice went on to note "The Victorian Managed Insurance Authority has reported that Victorian homeowners paid about $87.8m in home warranty insurance premiums from May 2010 to May 2011, but only $108,000 was paid out on a total of three successful claims. Over the same timeframe, about 250,000 Victorians suffered damage at the hands of Victorian home builders".
Thirdly, if patience can be maintained, a potentially better prospect will be to hold out and let the dust settle. There would be a good chance that a knight in shining armour is around the corner. This knight may be another building company willing to take on the task of finishing the buildings and continue to lead you on the path of having a completed project.
Regardless, knowing your numbers will be vital. If you are wanting to and willing to negotiate with the new builder, you will need to know what the 'actual' cost of the remaining works are.
My advice? Get hold of a qualified Quantity Surveyor and 'KNOW YOUR NUMBERS'.
Marty is a founding director of MCG who specialise in traditional construction cost estimating and maximising the depreciation deductions for property investors and businesses across Australia.Marty has over 18 years experience in the building and construction industry. Marty has been called upon many times as an expert witness, sits on the interviewing panel for Australian Institute of Quantity Surveyors (AIQS) and works closely with financiers and developers across Australia.