Case Study – Ikebana luxury apartments, 130 Dudley St, West Melbourne VIC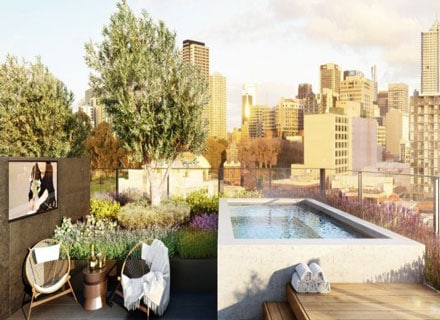 It's not terribly often we have a case study with a strong Japanese influence, let alone such a rich and detailed effort to showcase the majesty of the architecture. The word Ikebana translates as the Japanese art of flower arrangement and is an apt name for this stunning new development.
Ikebana luxury residences comprise of 248 Japanese inspired apartments. It consists of 133 two-bedroom apartments and 108 one-bedroom apartments and the Gurner trademark of extensive communal facilities. Designed by award-winning architects Elenberg Fraser, Ikebana is about the beauty and quietude of nature.
According to architects Elenberg Fraser, "the medium-density apartments celebrate the artisanal detail of Japanese handcrafts, with a torn paper façade and delicate screening. Integrated courtyards inject a natural connection – a tranquil moment of relaxation in an urban setting. With all apartments sold out, people were quick to snap up a piece of inner-city zen!"
The rooftop showcases the Ikebana Private Club featuring landscaping by renowned gardener Jack Merlo, a teppanyaki grill, karaoke lounge, indoor/outdoor lounge, a firepit and private dining areas. Merlo has also designed lush sunken gardens between the three buildings.
A unique feature of Ikebana is the two VIP Spa Retreats, which can be booked at no cost by residents for private entertaining with their own spa, barbecue, bar and moonlight cinema.
"When you want to get away with your friends for a rooftop barbecue overlooking the CBD, you don't necessarily want to be there with everybody else so we've created these two spaces that residents can book for the night and take 10 to 20 friends up there," says Gurner CEO Tim Gurner.
Two-bedroom apartments range in size from 54 to 79 square metres internally with balconies from seven to 49 square metres. They went to market from $511,000 to $750,000.
The one-bedroom apartments are sized from 45 to 46 square metres internally with outdoor space of seven to 36 square metres and prices from $360,000 to $480,000. Most apartments come with a car park, with 199 car spaces in the project.
We've been lucky enough to have been engaged by investor purchasers to provide depreciation schedules on Ikebana, and the depreciation entitlements are significant.
Investors purchasing smaller apartments in Ikebana can expect upwards of $13,000 within the first full year of claim, which isn't bad for 40 odd square metres of internal living. Larger two-bed room apartments will achieve closer to $20,000, within the first year.
An estimate of the range of potential deductions for investor purchasers is shown below.