Join us here at MCG in celebrating International Women's Day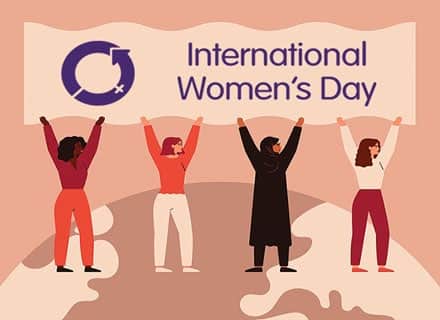 Today, March 8th is international women's day. I'd like to take a moment from talking about property, construction, depreciation and my normal blog topics to recognise some inspirational women. Here at MCG Quantity Surveyors, our office is thankfully around 50% women and the contribution they make is a marked one. They are critical to our business in a myriad of roles, and some of those roles are heavily male-dominated ones. Outside of what they 'do,' they're witty, passionate, fun and our office wouldn't be the same without them.
Personally, my life is richer for having my wife, mother, sister, mother-in-law, sisters-in-laws, friends and aunts in it. They're the first to cheer in the good times and the first to console in the tough ones.
I'd like to honour them today by sharing six women whose stories inspire me. Three born in the 1800s or earlier, and three a tad more contemporary. They may not be feminists per se or have dedicated their lives to women's rights, but for me, they exemplify the trailblazing spirit. In my view, they have made monumental inroads towards equality through leading inspirational lives.
Joan of Arc
She was a seventeen-year-old girl in a time where seventeen-year-old girls didn't change worlds, but somehow, she did. Joan of Arc was born to simple farmers in the tiny village of Domremy. She managed to defeat a well-trained British Army and make herself a member of the royal court in just one year. She was a superb strategist and no doubt a born leader and sustained many injuries on the battlefield.
She was captured in May of 1430 and was burned at the stake for heresy in a show trial that only enhanced her reputation as a martyr and heroine. Her was later overturned by an ecclesiastical court in 1456 and in 1920 she was even canonized and made one of the five patron saints of France.
Marie Curie
Born Maria Skladowska in Warsaw, Poland on November 7, 1867, Marie Curie was a penniless student who worked as a governess and tutor while pursuing her dream of becoming a physicist, which was simply not an occupation that women held in the nineteenth century. After moving to Paris, she met a physics and chemistry instructor by the name of Pierre Curie, in whom she found a kindred spirit. The two married in 1895, becoming the first husband and wife science team in history, and set about on a short but spectacular career that would make them Nobel Prize-winning physicists and their names synonymous with the science of modern chemistry. What makes Madame Currie so remarkable—besides being the first woman to win a Nobel Prize in science, was that she continued to carry on with her husband's work after his death in 1905 (likely as a result of their experiments with radiation), going on to become the first female head of Laboratory at the Sorbonne University in Paris and winning a second Nobel Prize, this one in Chemistry, in 1911 (which made her the first person to win two Nobel prizes—an accomplishment not to be repeated 1962. No doubt her accomplishments served as a source of inspiration for the thousands of women scientists and researchers who were to follow later.
Amelia Earhart
Amelia Mary Earhart was born on July 24, 1897, and was an American aviation pioneer and author. She was the first female aviator to fly solo across the Atlantic Ocean and she received the U.S. Distinguished Flying Cross for this accomplishment. She set many other records, wrote best-selling books about her flying experiences and was instrumental in the formation of The Ninety-Nines, an organization for female pilots. In 1935, Earhart became a visiting faculty member at Purdue University as an advisor to aeronautical engineering and a career counsellor to women students. She was also a member of the National Woman's Party and an early supporter of the Equal Rights Amendment.
During an attempt to make a circumnavigational flight of the globe in 1937 in a Purdue-funded Lockheed Model 10-E Electra, Earhart disappeared over the central Pacific Ocean near Howland Island.
Rosa Parks
It doesn't sound too taxing refusing to give up a seat on a bus, but when Rosa Parks did it in 1955 it was nothing short of unheard of. As an African American, Parks was legally obliged to give up her seat at the request of a white person – something she simply wasn't willing to do. The courage she showed in that instance sparked the civil rights movement in America, and her simple act of defiance changed the lives of millions of people. "I'm tired of being treated like a second-class citizen" was the quote that Rosa Parks best used to describe the reasoning behind her act of defiance. The sheer bravery of this woman led to one act of defiance that changed the world for the better.
J. K. Rowling
Joanne Rowling was born on 31 July 1965, writing under the pen names J. K. Rowling and Robert Galbraith, is a British novelist, screenwriter, and producer who is best known for writing the Harry Potter fantasy series. The books have won multiple awards and sold more than 400 million copies. They have become the best-selling book series in history.
Rowling was working as a researcher and bilingual secretary for Amnesty International when she conceived the idea for the Harry Potter series while on a delayed train from Manchester to London in 1990. The seven-year period that followed saw the death of her mother, birth of her first child, divorce from her first husband and relative poverty until the first novel in the series, Harry Potter and the Philosopher's Stone, was published in 1997.
Rowling has lived a "rags to riches" life story, in which she progressed from living on state benefits to being the world's first billionaire author. However, she lost her billionaire status from giving away much of her earnings to charity. Time magazine named her as a runner-up for its 2007 Person of the Year, noting the social, moral, and political inspiration she has given her fans. In October 2010, Rowling was named the "Most Influential Woman in Britain" by leading magazine editors.
Malala Yousafzai
Malala Yousafzai is a Pakistani education advocate who, at the age of 17, became the youngest person to win the Nobel Peace Prize after surviving an assassination attempt by the Taliban. Born on July 12, 1997, Yousafzai became an advocate for girls' education when she herself was still a child, which resulted in the Taliban issuing a death threat against her. On October 9, 2012, a gunman shot Malala when she was travelling home from school. She survived and has continued to speak out on the importance of education. In 2013, she gave a speech to the United Nations and published her first book, I Am Malala. In 2014, she won the Nobel Peace Prize.