The ever-changing demographics that drive smart investment decisions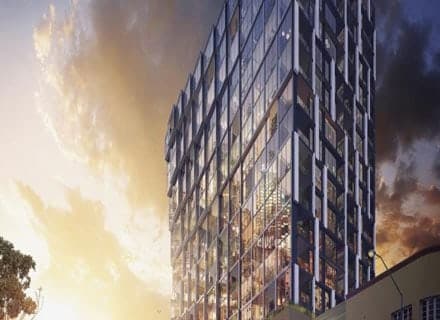 Those who know me, know I don't mind a chat. Whiling away my time via the exchange of ideas is a joy. Best of all, it's a move out of my professional comfort zone – a chance to expand the mind beyond 'rates per square metre' and legislative minutia.
Economists, builders, buyer's agents and investment advisors are always great company, but everyday property investors are the real deal – these are folk making it happen!
They're an adaptable lot too. Finding imaginative ways to invest in the right assets within their personal budgetary constraints and with a long-term view of where they'd like to be come retirement.
One knowledge area where smart investors like to stay out front is the study of demographics. By staying abreast of new information, they can seek holding what appeals to the widest range of potential tenant types.
Well, a recently released set of numbers is helping unearth the way we're evolving as a population, and the industry participants I talk with tell me these demographic shifts are reshaping our housing types.
The changing face of Australia
The Australian Bureau of Statistics (ABS) released Australian Historical Population Statistics, 2016 earlier this year. The study compared the population's composition from Federation in 1901 through to 2016. While it's a wide time range, it does show how much incremental changes have evolved to create our modern population makeup.
In short, contemporary Australians are older, are more likely to live in urban areas, have fewer children and are more likely to be born overseas in countries outside of the British Isles.
Here are some of the interesting numbers from the study:
From 2001 to 2016, Australia's population increased by just over 25 per cent to reach 24 million.
Overseas migration is now the main driver of Australia's population growth, accounting for just over 55 per cent of the nation's population increase since 2001.
Around Federation, the median age was 22 years, with just four per cent of the population aged 65 or over. In 2016, the median was 37 years, and 15 per cent of the population were aged 65 and over.
Since the first decade of the 1900s, life expectancy at birth in Australia has steadily increased by around 25 years for males and 26 years for females. By 2016, male life expectancy hit 80 years, while females can expect to live 85 years, ranking Australian life expectancy amongst the highest in the world.
In 2016, almost 30% of Australians were born overseas.
The numbers also confirmed our run to major cities with almost 90 per cent of the country living in urban areas in 2016.
Tasty graphics
The Australian Institute of Family Studies (AIFS) is a Federal Government body who've provided some interesting insights on the ABS study.
I've pulled a few graphics from their website to help illustrate the changes.
According to the AIFS, the proportion of family households has been declining. In 2016, families made up 71 per cent of Australia's households, but in 1986 their proportion was 77 per cent. Over this same period, the number of single-person households increased from 19 per cent of all households to 24 per cent.
Households are getting smaller as well. In 1911, the average number of people per household was 4.5, but by 2016, that number had fallen dramatically to 2.6.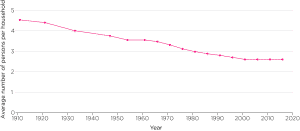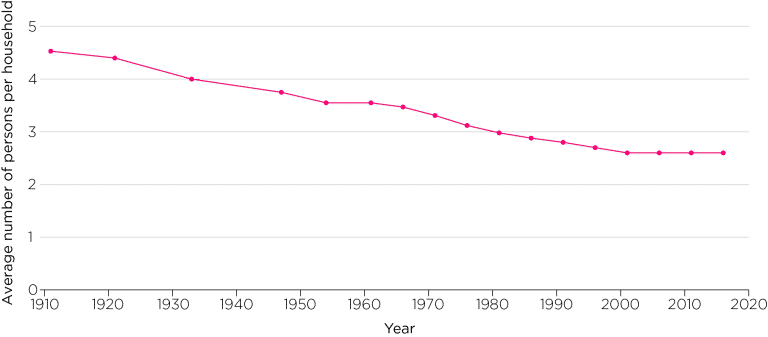 Source: Australian Institute of Family Studies
From 1976 to 2016, there's been a rise in the number of households comprising couples with no kids. In 1976, couples with children comprised 48 per cent of families, but by 2016, this had gone down to 37 per cent.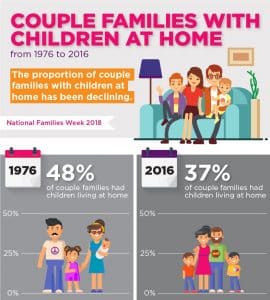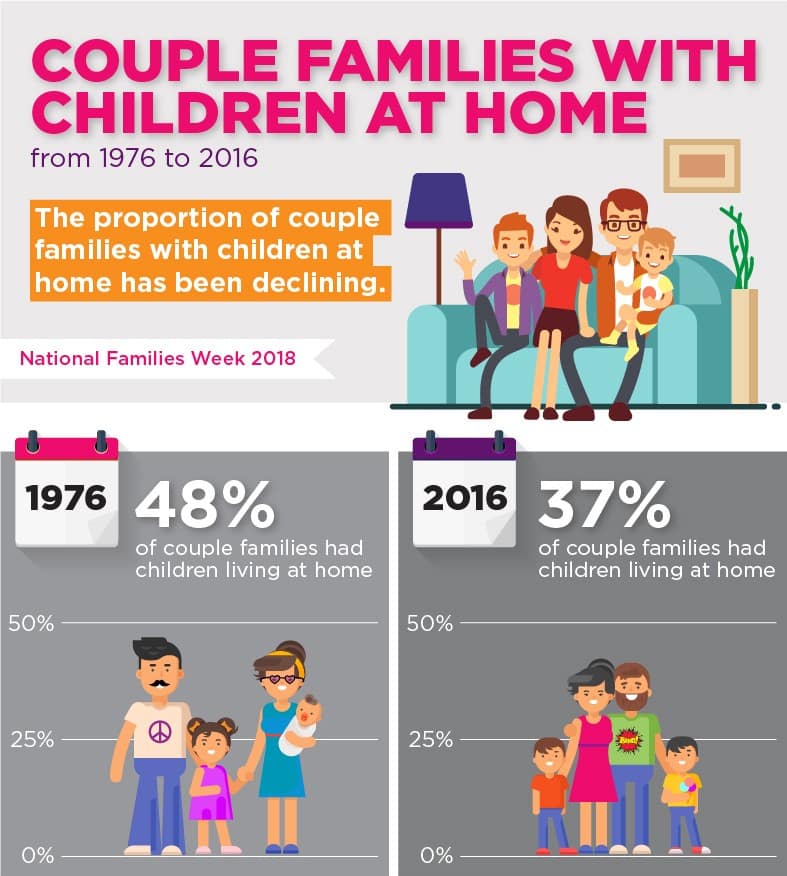 Source: Australian Institute of Family Studies
Couples are also having fewer children. In 1961 the fertility rate was 3.55, but by 2012 it had dropped to 1.93.
At the same time, the percentage of couples without children increased from 28 per cent in 1976 to 38 per cent in 2016.
In addition, 6.5% of families were single-parent families in 1976, but by 2016 they comprised 10.2 per cent of families.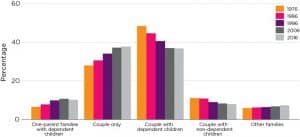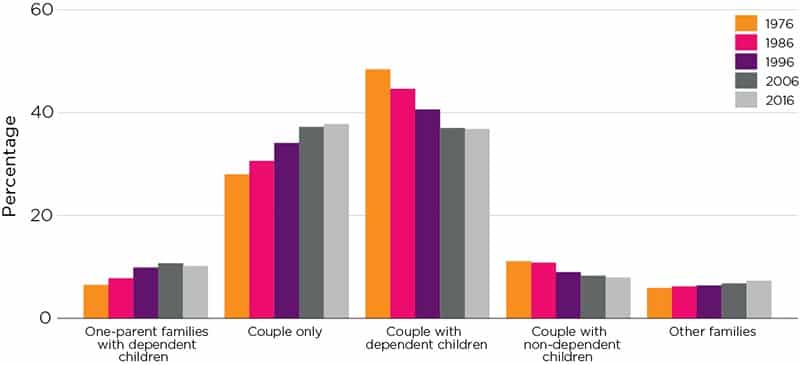 Source: Australian Institute of Family Studies
There's also been an increase in extended family members cohabitating. According to the 2016 Census, 8.3 per cent of households contained extended family members like a couple or one-parent family living with other relatives such as parents and grandparents.
What to make of this?
Casting an eye back over these stats you can see we are getting older (sorry folks – it's a simple fact) but are healthier in our advanced years – so more likely to travel or enjoy lifestyle benefits of where we live.
Our family make ups have broken beyond the nuclear unit of 'mum, dad, and 2.5 kids' to become couples without kids, single parents and multi-generational households.
Our immigrant population has also created cultural diversities in our major population centres as well.
From what I can see, landlords looking to build a portfolio that will attract and keep tenants need to be thinking beyond traditional lines. They must deep dive into the tenant makeup of their areas of interest and consider ways to appeal to this new Aussie population.
Could it be adapting a home with multiple living spaces for parents, adult kids, and the grandparent? Might it be reducing floor areas and using clever design to bring in one-person, or childless couple, households? Perhaps locations with excellent schooling options are in dire need of more options for single-parent households – like a low-maintenance property with good security perhaps? How about designs that will allow our aging, but relatively healthy, elder Aussies to lock-and-leave as they jet off and discover the world.
Now, more than ever before, investors who can flex their thinking and meet the needs of changing demographics are set to create a secure property portfolio income.