Home Insurance Shortfalls and the Impact of Recent Natural Disasters in Australia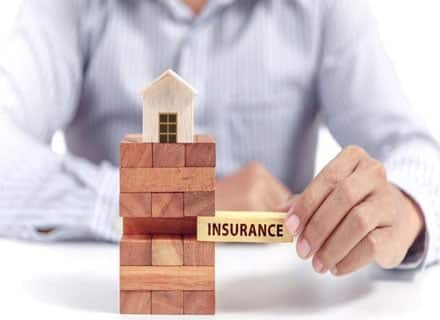 Recent events in Australia have shown the devastation that natural disasters are capable of. Between the Queensland & Victorian floods and the NSW bushfires, Australians have come to see just how important adequate home insurance is. These disasters have also highlighted an epidemic of under insured home owners in Australia.
Let's take a look at some research on home insurance in Australia.
In 2000 the Construction Data division of Reed Business Information Systems (Reed) surveyed 1,000 randomly selected homeowners. They concluded that:
87% of homes were underinsured by any amount
The average level of underinsurance was 34%
In 2002 the Insurance Council of Australia conducted a survey of seven companies sharing 80% of the home building insurance market. The survey suggested that:
27.5% of homes were underinsured by 10% or more, and
7.5% of home buildings were underinsured by 30% or more
In 2003 the Royal Automobile Club of Victoria (RACV) found that consumers do not increase the sum insured following improvements to their homes. The survey found:
24% of consumers did not increase the level of cover after renovations costing between $20,000 and $40,000.
In 2006 two major insurers independently estimated that around 15% of households do not have home building insurance and in 2007 CPR Services reported that 83% of businesses have inadequate building insurance.
These figures are a cause for concern and go some way to highlighting the problem of underinsurance in Australia.
The year 2003 saw the devastating ACT bushfires which sadly resulted in fatalities, injuries and significant destruction of property. A total of 488 homes in and around Canberra were destroyed.
Unfortunately many insured homeowners found that their building insurance policies did not meet the full cost of rebuilding their home and associated expenses. The majority of home owners found they were underinsured.
The Insurance Disaster Response Organisation reported that structures destroyed in the ACT bushfires were underinsured on average by 40% of the replacement cost.
Respondents to ASIC's ACT bushfire survey were asked how the sum insured under their home building policy was initially calculated. The results found:
51% estimated the sum insured themselves
23% reported using information from an insurer to help them
80% responded that they believed they were adequately insured
As recently as last year, Life Insurance Finder noted that underinsurance is common in Australia. It concluded that:
Australia belonged to one of the most underinsured nations
Parents with dependent children are surprisingly underinsured by $1.30 trillion
Up to 77% of home owners are underinsured when it comes to their home and contents insurance
Source: Canstar Research (4/1/13)
It's clear that the home insurance industry is in need of review and that home owners are not qualified to estimate replacement costs for themselves, even with the help of online tools.
Taking a look in detail at the recent disasters outlines the staggering costs associated with natural disasters. Let's look at the extent and the cost of the recent disasters.
Queensland Floods
On the 11th of January 2011 the premier of Queensland declared three-quarters of Queensland a disaster zone. The State was affected by one of the most severe floods in its history.
About 15,000 properties were affected by significant flooding with 5,000 businesses being affected. In Ipswich a further 3,000 homes and businesses have been flooded. The Local Government Association of Queensland estimated that 70,000km to 90,000 km of council roads had been damaged (councils are responsible for 80% of roads).
IBIS World reported that approximately $1 billion to $2 billion in additional spending on commercial and institutional premises would be needed in the two years following the floods. The damage to these buildings was partly reduced by greater use of concrete and steel, as compared to the timber and plasterboard of most residential housing. However, the reconstruction cost was estimated at some $10 billion.
Source: IBIS World (Jan/2011)
Victorian Floods
The Queensland floods were followed by the 2011 Victorian floods which saw more than fifty communities in Western and Central Victoria also grapple with significant flooding. The high intensity rainfall between the 12th and 14th of January 2011 caused major flooding across much of the Western and Central parts of Victoria. Tropical Cyclone Yasi exacerbated the problems and in early February battered areas already struggling from January's floods. This resulted in repeated flash flooding.
As of the 18th January, more than:
51 communities had been affected by the floods
Over 1,730 properties had been flooded
Over 17,000 homes lost their electricity supply
51,700 hectares of pasture and 41,200 hectares of field crops were flooded
6,106 sheep were estimated to have been killed
The Department of Primary Industries later calculated a damage bill of up to $2 billion.
New South Wales Bushfires
The New South Wales Rural Fire Service (RFS) reported that the 2012-2013 Christmas period saw large parts of NSW affected by bushfires brought on by searing temperatures and wild winds.
The RFS confirmed that 33 properties and more than 50 sheds had been destroyed, as well as machinery. There were extensive stock losses in the bushfire west of Coonabarabran, which also damaged the Siding Spring Observatory. The fire in the Warrumbungle National Park in the north-west of the state burnt out nearly 40,000 hectares and had a 100-kilometre-wide front. More than 170 fires continued to burn across the state at that time
Further south in Tasmania, a Victorian fire fighter was tragically killed while fighting bushfires that destroyed about 170 properties.
Using available reconstruction cost estimates, you can see as per the table below that the havoc caused by these disasters resulted over 5 trillion dollars worth of reported damage.
Recent Natural Disasters Reconstruction Cost Estimates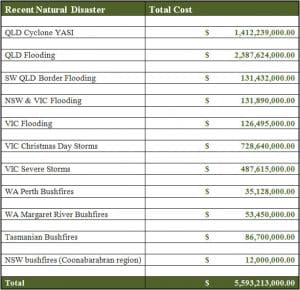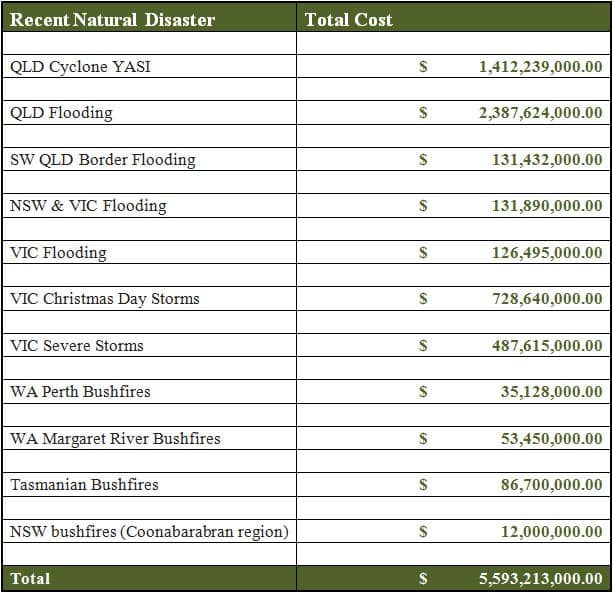 Underinsurance is a critical problem facing Australian property owners and the majority of home owners would be exposed to additional costs over and above their insurance entitlements.
In 2005 the Australian Securities & Investments Commission (ASIC), issued a report titled "Getting Home Insurance Right". Within its report, ASIC concluded that many insurers now help consumers estimate reconstruction costs by using web-based calculators.
The report went on to road test these web-based calculators, to see how accurate they were and how similar they were to each other.
ASIC reviewed the calculators offered by nine major insurers in the course of this report and compared the figures they produced for the sum insured for five different properties. They found there were significant inconsistencies in the figures generated by these web-based calculators. The largest gap recorded was more than two times the lowest estimate for the same house in the same location as shown in the table below.


The Insurance Council of Australia estimates that more than 40% of households fail to correctly assess the value of their home.
There are a number of factors that homeowners do not consider when it comes to estimating an insurance replacement cost. A Quantity Surveyor is a specialist in the estimating of replacement construction costs and the associated hidden expenses in reconstruction. Let's take a look at some of these costs and see what a replacement cost estimate report actually is.
Firstly, a replacement cost estimate (RCE) report is an estimate of the cost to replace a particular building in today's economic climate. Of course the economic climate is not static, so the cost to build two identical properties over time varies based on a multitude of factors such as fluctuating material and labour costs. A home owner could be forgiven for estimating the cost to build a brand new home on their block based on current costs advertised for project homes or the latest display homes at their local display centre. However, there are costs over and above the construction of a new house that must be included in a full replacement cost estimate. These include, but are not limited to;
The demolition and removal of the remainder of the original structure – a house destroyed by fire for example will not be left neatly packed away in a skip bin. There will be costs associated with removing and clearing the debris, which could include hazardous materials (like asbestos) if the property is of a certain age.
The cost of constructing the new building based on current planning constraints and building codes – what is built on the block at the present time may not necessarily comply with the current building codes if it were to be reconstructed. The property may require repositioning on the block, or need to be rebuilt subject to BASIX requirements.
Consultants and preliminaries fees – these may include architects fees or costs associated with the development application.
Additionally, you'll need to consider cost escalation associated with the time it takes for planning, design and documentation, the calling of tenders and tender evaluation as well as the construction fit out period itself.
As you can see, the total value that a property should be insured for goes beyond that of a brand new construction cost alone.
The risk of being underinsured exposes the home owner to significant losses in the event of a disaster. Even if the property only requires partial reconstruction, it's possible to be out-of-pocket when the insurance company does not release the total insured value for the property.
A replacement cost estimate also works in reverse to ensure that if the replacement value of a building is overstated, it can be brought back in line with an appropriate current replacement cost to minimise the insurance premiums. Nobody wants to pay more than is necessary, and an RCE will identify if this is the case.
It comes back to a balance between ensuring the premiums are not based on an overstated replacement value, and confidence that you'll not be out-of-pocket should the worst happen. A replacement cost estimate is the best tool to ensure the balance is achieved.
Post by Marty Sadlier, Director. For more information contact MCG Quantity Surveyors on 1300 795 170 or via the website at www.mcgqs.com.au.