Without COVID-19,we were going to be having a great year in Building!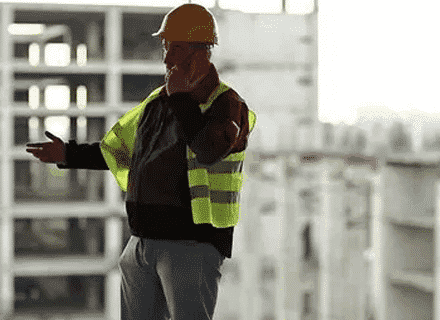 If we compare the number of homes that commenced construction in 2018, compared to 2019, 2018 wins. In fact, the total number of homes that commenced construction in 2019 was 174,246.
The total number of new homes that commenced construction in 2019 was 22.6 percent lower than in 2018.
So, over the full year, 2019 was not as great as the previous year. However, as an industry, we had a lot to deal with.
Within the property sector, there does seem to be headwinds in some way, shape, or form each year. 2019 had it's fair share though. We had the Financial Services Royal Commission handed down its findings, the Australian Prudential Regulation Authority (APRA) started the year with a firm hold on the industry, Federal and state elections were held.
Earlier in 2019, Geordan Murray, the HIA Senior economist had said, tax changes on property ownership, such as the opposition Labor Party is promoting ahead of the May 18 federal election, would only make the situation worse.
"State and federal governments should be looking at ways to sure up confidence in the housing market, for both owner-occupiers and investors," HIA senior economist Geordan Murray said.
Then, on the 21st May 2019, APRA, the banking regulator, proposed relaxation of lending restrictions.
Coupled with the Reserve Bankrolling out two consecutive interest rate cuts. Surely this would start to see the 2019 year improve. Surely this was the road back to recovery.
Martin Farrer, of The Guardian, published on the 16th November 2019, What has caused the turnaround?
In his opinion, CREDIT.
"The simple answer is credit. Just as the downturn was caused by Apra's 2017 decision to restrict credit amid alarm about poor lending standards, the upturn has coincided with a loosening of credit restrictions".
The founder of SQM, Louis Christopher, says Apra's post-election U-turn was crucial.
"With Apra, what they really did was, someone, knocked on their door and said, 'Look, you've gone too far, we've got a downturn in the economy, you've got to loosen the lending restrictions.' And they did."
The second half of 2019 showed a marked improvement in housing market sentiment with suggestions that demand for new homes would return to growth going into 2020.
This month, on the 15th April 2020, The ABS released building activity data for the December quarter of 2019, rounding out the full calendar year results.
Maybe we are back on track. In December 2019, leading indicators of building activity that showed an improvement in new home construction, there was a 1.2 percent increase in new home construction in the December quarter.
"There was a small increase in the number of new homes that commenced construction in the December quarter," said Angela Lillicrap, HIA Economist.
"This quarterly increase at the end of 2019 was reported in both detached dwellings and multi-units, increasing by 0.1 percent and 2.9 percent respectively.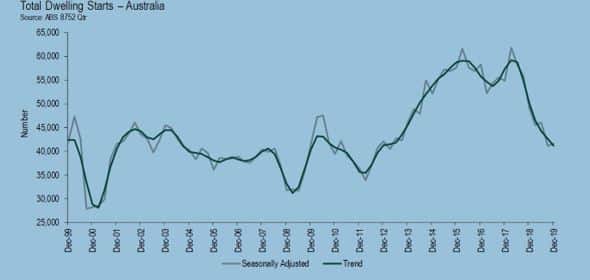 With December 2019 showing the number of new homes starting construction being just above the 40,000, we had not seen these low numbers since December 2013. With December 2017 being between the 55,000 and 60,000 mark numbers.
As we moved into the new year, a decade even, building approvals were on the rise.
"Building approvals increased by 3.9 percent in the three months to February 2020 compared to the previous three months, providing further evidence that the housing market was accelerating into 2020," stated HIA Economist, Angela Lillicrap.
"Approvals strengthened across the board with both detached houses and multi-units experiencing quarterly increases of 2.9 percent and 5.4 percent respectively.
From this, we know that up until at least the end of February, home building activity across most regions for 2020 was looking at the improvement.
In seasonally adjusted terms, building approvals for the three months to February 2020 quarter showed:
Victoria (+22.6 per cent),
Western Australia (+1.1 per cent),
Tasmania (-7.3 per cent),
New South Wales, (-5.2 per cent),
Queensland (-4.9 per cent),
South Australia (-17.4 per cent),
Australian Capital Territory(+ 1.0 per cent), and
Northern Territory (- 6.7 per cent.).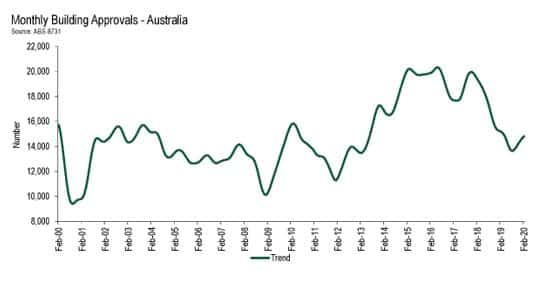 From this, what I see is that we have a property market on the improvement. Then we welcome COVID-19 to our shores. Although we lock the door and do not want it to enter, it comes in anyway.
With various stimulus packages being rolled out, Government incentives to encourage support and continued employment, it is fair to say that the construction industry is still open for business.
The Australian Government was pledged $1.3 billion to support keeping apprentices employed, by way of a $21,000 per apprentice subsidized wage.
A month ago, HIA Managing Director, Graham Wolfe, said,
"The measures that the Government has announced will help many small businesses continue to operate in this uncertain environment."
"As an industry that employs over 1 million people and injects billions into the economy, the residential building industry can play a key role in keeping the economy ticking over and lead the economic recovery that will happen once the virus passes," concluded Mr. Wolfe
As I had noted earlier, one of the key drivers for the change from early to mid-2019 has been credit, or the ability to gain credit.
We now have more headwinds. 2020 is no different. It is not a royal commission, or a federal election, but a worldwide pandemic.
However, if the industry has access to credit and can continue to build, then we have a chance.
The value of lending to owner-occupiers (construction of new homes) in January 2020 has increased to 13.2 percent higher than back in April 2019.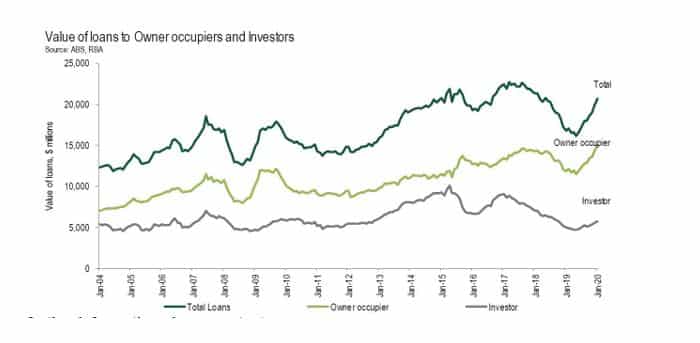 Written by Marty Sadlier
Founding Director and Owner at MCG Quantity Surveyors