The property market in Darwin – Still a hotspot?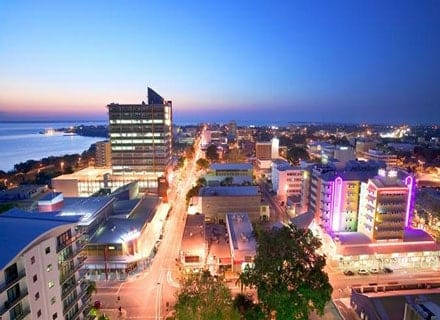 I thought I'd take a look at a property market that's been getting a lot of press lately: Darwin. This property market has been attracting a lot of attention based on the fact that capital gains within the Darwin housing market have been outperforming the broader capital city average since early 2004. It's easy to identify a hotspot once it's posted some major capital gains. However, to forecast a potential hotspot, or predict whether the capital gains are likely to continue demands detailed research.
The first thing to consider is that as Terry Rider points out, Darwin is really more of a regional centre than a capital city. In a recent paper on Housing Market Dynamics in Rural and Regional Australia, Dr Steven Rowley of Curtin University suggests that there are many factors unique to rural and regional centres, which have a significant impact on housing market dynamics. One perfect example is their inability to deal with the rapid pace of change within their housing markets. From population growth stemming from mining activities or sea/tree change movements for example. We'll get to mining activities in a moment, but population growth is certainly a factor within the Darwin property market. The Australian Financial review recently reported data showing that population growth has doubled from 2.4 per cent to 4.2 per cent, and suggested that the biggest challenge facing Darwin property is supply.
The National Housing Supply Council in its national report on supply and affordability, reports that relative to the number of households, the largest estimated shortfall between housing supply and demand is in the Northern Territory at almost 15 per cent.
On the economic side of things, the Darwin economy has benefited greatly from gas exploration and extraction. The Northern Territory is fast becoming a gas hub of international significance, kicked off by the establishment of the Conoco Phillips LNG plant six years ago. In a recent article from Australian Property Investor Magazine, they suggest that the growth is to continue on the back of the $34 Billion Ichthys liquefied natural gas (LNG) project approval. The project will require an estimated 3,000 jobs during the peak of construction, with a further 1,000 workers operating off shore.
Rental yields are also placing upward pressure on the property market. The highest rental yields of all capital cities can be found in Darwin with houses showing a gross rental yield of 6.0% and units at 6.3%. In their recent property market update the Australian Property Monitors confirm my views, suggesting that buyer activity in the Darwin housing market is set to accelerate during 2013 driven by high and rising rents, a general shortage of accommodation and a strengthening economy.
You may have heard our Prime Minister talking about the 'Asian Century.' The significance of this can be seen within the federal government's Asian Century white paper. The white paper singles out Darwin as having the potential to evolve similarly to Singapore: 'Darwin has great opportunities to become a world-leading centre for engineering, financial, medical and education services.' The Northern Territory capital has been earmarked for population growth via the education market to Asian students and the booming natural resources sector. The white paper also points to the $34 billion Inpex gas plant sites capacity to boost Darwin's economy and population. It further confirms that these factors combined with a low housing supply, have caused a tight housing market and high rental yields.
This all augers well for the future of the property market in Darwin and I look forward to tracking the movements over the next 12 months.